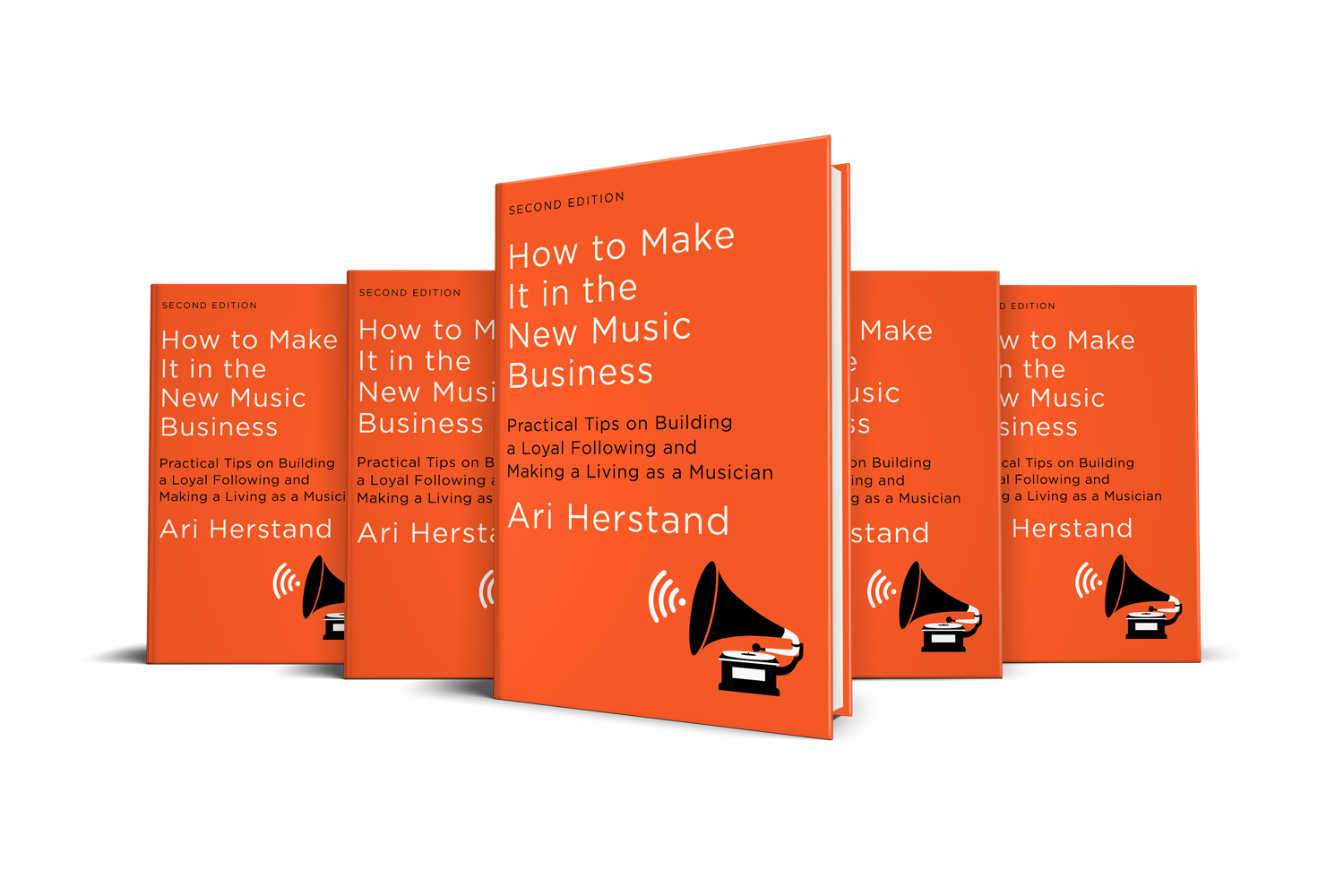 How to Make It in the New Music Business
Practical Tips on Building a Loyal Following and Making a Living as a Musician 
Second Edition 
by Ari Herstand
Livewright / W.W. Norton Publishing Corporation
Original Publication: December, 2016
Second Edition Publication: November 5th, 2019
Praise
"An indispensable and comprehensive manual on how to navigate the modern music business."
— Forbes
 "It's a fun and informative read for every artist out there looking to live off their creative craft. The book does a great job of explaining the process of generating royalties and crowdfunding goals, all while delivering important info in a witty and wise tone that's comprehensive but never condescending." 
― Rolling Stone
 "I've read a hundred how-to-make-it-in-the-music-biz books, and this one is today's definitive, comprehensive manual."
— Jack Conte, founder and CEO of Patreon
 "This is the single best book on the current music business. An absolute must-read for every musician."
— Derek Sivers, Sivers.org, founder of CD Baby
 "Herstand is the informed older brother most of us never got in this crazy, confusing industry."
— Andy Grammer, chart-topping singer/songwriter
"The best 'how to' book of its kind. As a working art-ist himself, Herstand knows of what he speaks. . . . The book crackles with the actual experience of being a working artist. Highly recommended."
— Music Connection Magazine
About the Book
With the original publication of How to Make It in the New Music Business, self-made musician Ari Herstand emerged as a leading author-ity on the industry. Weaving humorous and enlightening firsthand experiences with meticulous research, the book became the go-to resource for artists ready to make a liv-ing in a turbulent, ever-evolving field.Intent on continuing to be the "fresh . . . fearless tour guide in a brand-new jungle" (Paul Resnikoff, publisher, Digital Music News), Herstand offers a completely updated second edition, maintaining that you don'tneed to be a superstar to succeed as a musi-cian. And you don't need a record deal. We are living in the midst of an industry renais-sance, one that has left the record companies desperately struggling to maintain their prominence, as a subculture of dedicated, DIY (do-it-yourself) musicians have taken over. These days, talent is a given and success has to be earned.Written in Herstand's signature friendly yetbrutally honest style, this edition is com-pre-hensively updated to include the latest developments in the music business, such as: 
Best practices for growth on streaming services 
Worldwide royalty collection—taking into account the new laws like the Music Modernization Act 
Direct marketing and cohesive branding techniques 
Innovative single, EP and album release strategies 
The evolution of Instagram, Spotify, Apple Music, playlisting and live streaming apps 
Musicians will not only be introduced to all the tools available today but will be shown how to effectively leverage them to actually make money. More important, they will develop the mindset to be aware of new advancements both online and in real life and always stay in tune with a constantly evolving landscape.There has never been a better time to be an independent musician. Today, fans can com-municate with their idols by simply picking up their phones, artists are able to produce studio-worthy content from their bedroom and albums are funded not by record labels but by generous, engaged supporters. How to Make It in the New Music Business is a must-have guide for anyone hoping tonavigate the increasingly complex yet advantageous landscape that is the modernmusic industry.
Foreword by Derek Sivers
Since the 1980s, I've read every published book about the music business. Every single one. And there have been some good ones. But never before have I seen one book that sums it up so perfectly and helpfully as Ari Herstand's How to Make It in the New Music Business. It's so brilliant I feel like doing personal house calls to every musician on earth to make sure they read it. 
Now let's clarify a term: The music business is different than the musician business. The music business is covered by Billboard magazine, and talks about label executives moving from Warner to EMI, or this year's top-grossing stadium tours by classic rock acts from the 1970s. You don't care about that. The musician business is how you make a successful living from your music. That's what you care about. 
Even the better music business books are usually written by consultants, executives, lawyers and journalists. Well intentioned, but missing one crucial thing: knowing what it's like to be you—to pour your soul into a song, the terrifying excitement of uploading it for the world to hear, the disgusting discomfort of self-promotion, the devastating disappointment of an indifferent world. 
Ah, but Ari gets it. He's you. He's out there promoting his own music right now. He's sharing lessons he learned firsthand. (And lucky for you, he's keeping this book focused on you and your success, not his.) 
They say the best teacher is someone who's just learned it themselves, because they still remember what it's like to not know, and how to explain it in a way that gets you from here to there. 
I've never met Ari and I've never even heard his music, but I'm a superfan of what he's done on ArisTake.com and now this book. Because I'm a superfan of musicians getting successful, and I think this book is the best in the world right now at helping you do that.
Ari Herstand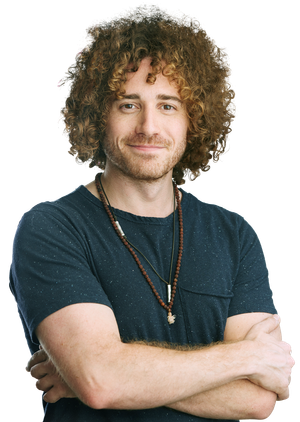 "The poster child of DIY Music" - Forbes
Ari Herstand is the CEO and founder of the music business education and artist advocacy company, Ari's Take. Started in 2012 as a blog, Ari's Take has become the go-to resource for independent musicians on how to run a successful music career in the NEW music business. He is also the author of the best-selling book, How To Make It in the New Music Business which is a #1 Amazon best-seller in 3 categories and has been adopted by over 300 universities and translated into multiple languages. Herstand's well-researched, relatable, no BS approach is why so many musicians continue to trust him for advice. He offers encouragement without condescension and maintains a "we're all in it together" attitude not found elsewhere in the space. 
In 2018, Herstand opened the online school Ari's Take Academy which brings in experts in the field to teach courses on running successful careers in the new music business. ATA currently has over 5,000 students enrolled. 
He is also the host of the Webby Award winning podcast, the New Music Business where he interviews innovators and experts in the music industry. Since its launch in March of 2020, over 350,000 people have listened to the show. 
An independent musician who has played over 1,000 shows around the country, he has performed on Ellen, has had his music featured in countless TV shows, commercials and films, and has charted in the top 10 on iTunes. He currently leads the immersive funk/soul concert experience Brassroots District.
Herstand has written for many of the top musician trade magazines and websites including Music Connection Magazine, American Songwriter, Digital Music News, Playback Magazine, CD Baby, Tunecore, Roland, Discmakers, ASCAP, Hypebot and others. He has been a featured speaker at SXSW, BBC One's Amplify, NAMM, ASCAP Music Expo, SF MusicTech, CD Baby's DIY Musician Conference, UCLA, Berklee College of Music and in music business classrooms worldwide.
Through his advocacy work, he helped draft and pass a law in California to help music professionals be able to work and operate unencumbered.